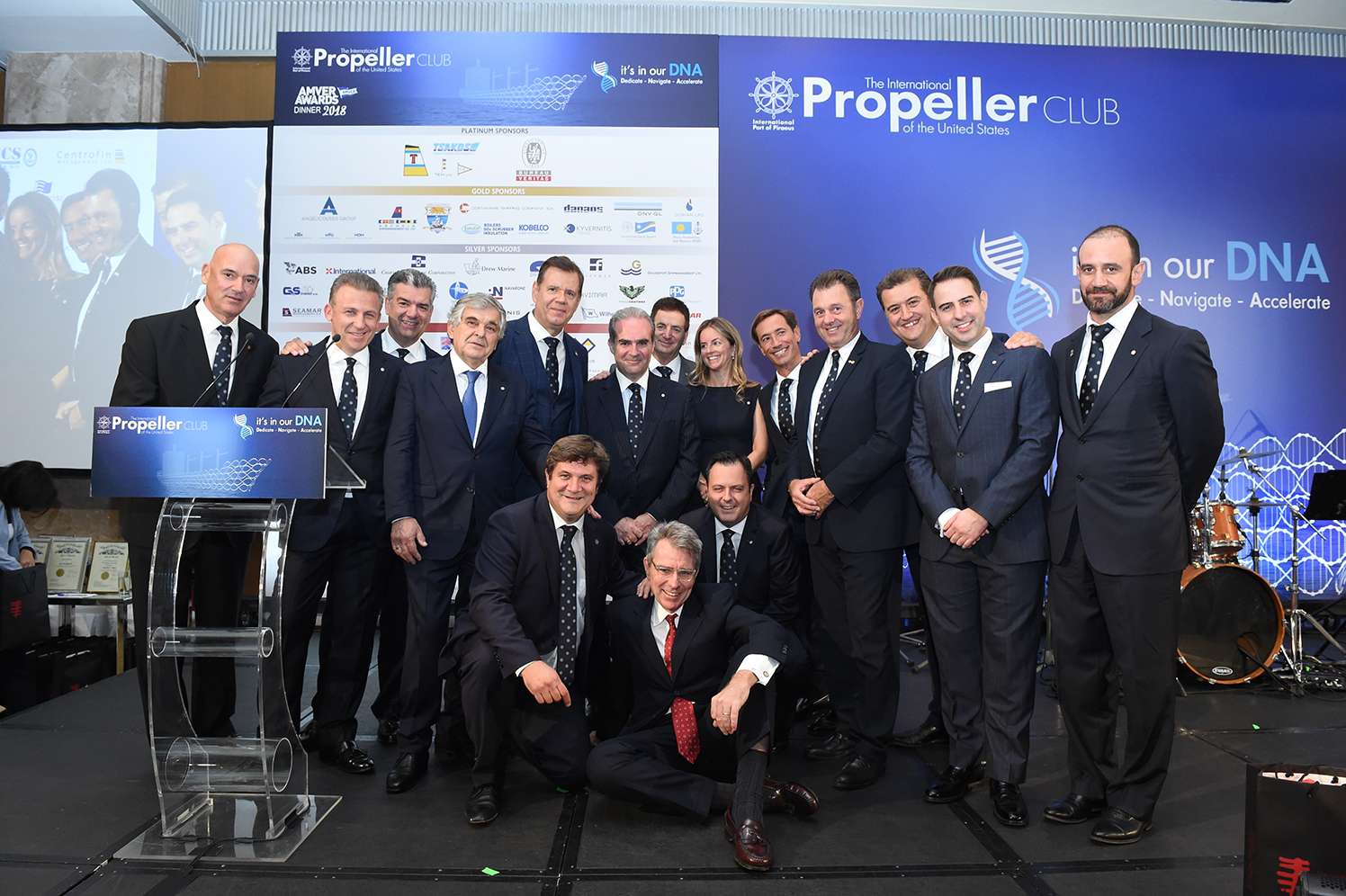 22 Oct

AMVER Awards Ceremony
AMVER Awards Ceremony 2018
Speech of the President of the International Propeller Club of the United States, International Port of Piraeus, Mr. George Xiradakis:
"Dear Vice Minister of Shipping and Island Policy, Mr. Nektarios Santorinios,
Dear US Ambassador to the Hellenic Republic and Honorable President of Propeller Club of Piraeus, Mr. Geoffrey R. Pyatt,
Dear Deputy for Operations, Policy, and Capabilities of the US Coast Guard, Rear Admiral Meredith Austin,
Dear Commandant of the Hellenic Coast Guard, Vice Admiral Stamatis Raptis,
Dear Chief of Hellenic Navy Fleet, Vice Admiral Ioannis Pavlopoulos,
Dear Secretary General of the Ministry of Shipping and Island Policy, Mr. Dionyssis Temponeras,
Dear Rear Admiral Joel Whitehead, President of International Propeller Club,
Dear President of the Hellenic Chamber of Shipping Mr. George Pateras,
Your excellences Ambassadors of Maritime Nations from Cyprus, Panama, Liberia and Ireland,
Dear Representatives of the Union of Greek Shipowners,
Dear Executives of U.S Embassy Athens and of USCG, of the Hellenic Armed Forces,
Dear Presidents and Representatives of the Hellenic Shipping Cluster, General Secretariat of Ports Policy, Association of Banking and Financial Executives of Hellenic Shipping, HELMEPA, OLP, Short Sea Shipping, Passenger Shipping, Hellenic Shipbrokers Association, Hellenic Professional Yacht Owners Association, WISTA Hellas, Ports of Piraeus and Thessaloniki,
Dear Executives of Greek Shipping Companies based in Greece,
Dear Former Presidents and Governors, Members and Friends of the Propeller Club of the United States of America – Port of Piraeus,
Dear members and volunteers
Ladies and gentlemen,
For the sixth time in a row, I welcome you to the annual AMVER awards event organized by the Propeller Club – Port of Piraeus in collaboration with the US Embassy and the US Coast Guard.
Once again, shipowners, bankers, lawyers, financiers, insurers, captains, sailors, scientists, shipping executives, entrepreneurs, brokers, port organizations, professors, military and friends honor us with your presence, making the Propeller Club of Piraeus an important entity in the Greek maritime cluster, a goal that was set years ago.
Your participation in tonight's event exceeds all previous ones, while the number of Sponsors, without the support of which our social responsibility task would not have been possible, has reached a record number also. Thank you very much!
The seamanship is in the DNA of Greeks, who have proven it by being ranked first in the list of the top world shipowners. However, we cannot overlook the fact that the maritime community experiences an era of great challenges and opportunities. Our country ranks 7th in the list of the major shipping nations in the world, according to a survey by DNV GL and Menon Economics, a position we must improve. The research is based on four parameters such as shipping, shipping technology, maritime finance and legislation, and port and logistics services. These are parameters that need to be exploited by our DNA. Dedication, Navigation, Acceleration.
Today we award 220 Greek shipping companies having 1,800 vessels under their management, which voluntarily enroll to the AMVER reporting system, aiming at rescuing people and fortune in distress at sea globally. This means that 33,000 people / seafarers of all specialties compose an army of people serving the global community. The crew of these ships managed for another year to rescue human lives under unfavorable conditions.
Thousands of ships from hundreds of nations participate in AMVER. Over 7,000 ships are involved daily in emergency rescue events, while 3.500 human lives have been rescued by ships participating in AMVER since 2000. The 2017 data are impressive. 153 people were rescued, out of which 110 came from Greek ships which were at risk.
We call on all Greek companies to enroll their vessels at the AMVER system, to become members of the rescue chain, proving that shipping business is a concept that goes far beyond the purely economic scope of action. It is human virtue to use expertise, talent and skills to solve problems in order to improve the quality of life and standard of living of his fellow human beings and himself.
During the last 6 years I have the honor to lead the Propeller Club of Piraeus, I had the opportunity to meet with members from other Propeller ports, all focusing on the human factor as a pillar of integrated marine development, which can provide benefits to humanity. I share this experience with our newest members, who will spearhead the new challenges of the 4th Industrial Revolution, the Digital Revolution.
I would like to sincerely thank you all, for your presence tonight, your continuous support to the Board of Governors and the Propeller Club – Port of Piraeus and for supporting us in furthering our mission.
Last but not least, I would like to share with you our joy and fortune working with a wonderful group of people from the American Embassy in Greece and above all with Ambassador Geoffrey Pyatt, who has honored with his friendship both the entire family of Propeller Club Piraeus and myself. A man who is working hard since his arrival in our country, uses the three circle Venn diagram having, in one circle North Africa, in another the Eastern Mediterranean, and in a third the Black Sea region. The Ambassador believes that the place where that Venn diagram comes together is Greece, claiming that this sort of strategic element of the relationship will remain important. He is the one who feels complimented when called undiplomatic at times and who declares that our democratic values cannot be taken for granted. A man who admires Greek seamanship and considers Greece a global shipping center.
We have prepared a program, inspired by the values we are dedicated, which will travel you to the beauty of Greek shipping and its people and we hope that we will become the springboard for accelerating your efforts for a better life. We wish you a pleasant evening!"
7385
Gallery