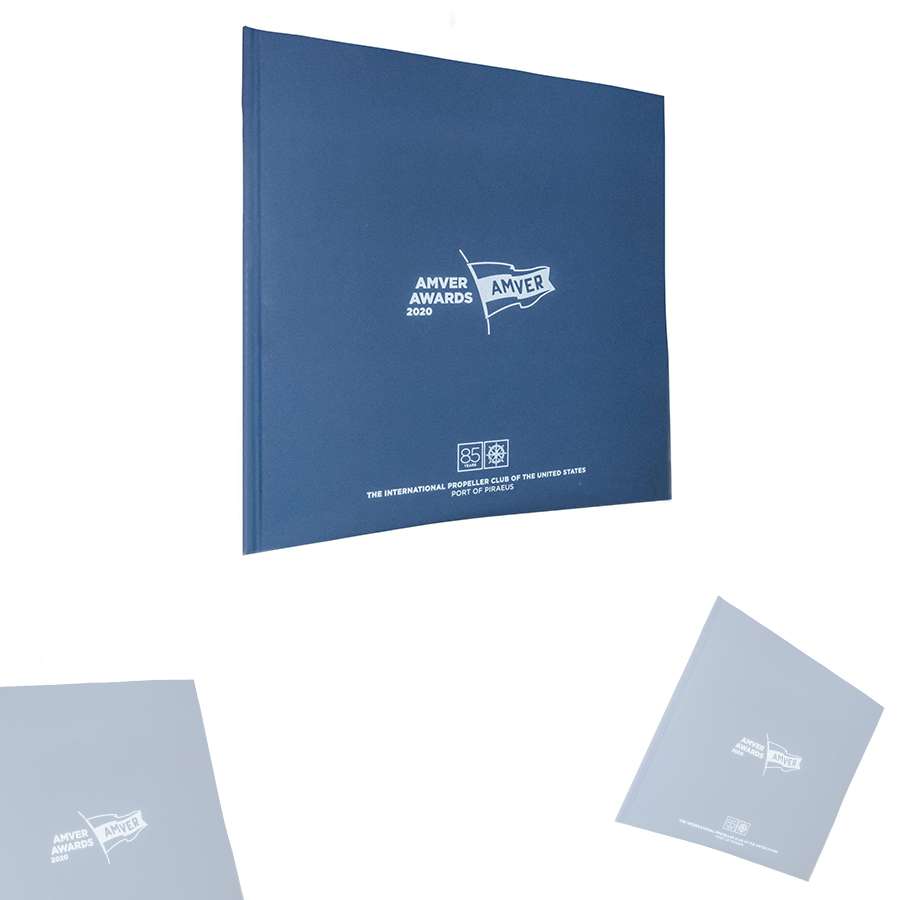 31 Dec

Commemorative Album AMVER Awards
Commemorative AMVER Awards 2020
Album Publication of a special commemorative AMVER Awards 2020 Album by the International Propeller Club of the United States, Port of Piraeus. 
Every year, the Propeller Club, in cooperation with the U.S. Embassy and the U.S. Coast Guard, hosts a gala event celebrating the AMVER Awards. This year, the challenges posed by the pandemic forced the Club's President and Board of Governors to cancel the event. Instead, the Propeller Club chose to publish a luxurious Album dedicated to the AMVER Program and to the winners of the AMVER Awards for 2020. "With this initiative we pay tribute to this important program which is so closely associated with the Propeller Club," said Costis J. Frangoulis, President of the Propeller Club, Port of Piraeus, "and we honor all who participate in the AMVER Program, representing the highest seafaring ideals." The 156 pages of this elegant, hard cover album present the companies and vessels who participated in the program, the vessels and crews who were active in rescues as well as the three companies with the highest participation in the AMVER Program during the past decade. Here are the award categories:
AMVER AWARDS 2020
The AMVER Awards 2020 honor 217 Greek shipping companies and their 2.023 vessels who participated in the program for more than 128 days during the past year. It's worth noting that this is the second year that the Greek maritime industry has received more than 2.000 AMVER awards, more than any other nation. This underlines the important leading role that Greece plays in global shipping – both in terms of size, and its seafaring ethos.
RESCUE AWARDS 2020
M/T PLATYTERA of ASTRA SHIPMANAGEMENT INC.
M/V JAGUAR MAX of ENTERPRISES SHIPPING & TRADING S.A.
M/V THEBE of NAVARONE S.A.
M/T HELLAS of POSEIDON LATSCO MARINE MANAGEMENT INC.
M/T KING PHILIPPOS of LATSCO MARINE MANAGEMENT INC.
M/T NISSOS DELOS ofKYKLADES MARITIME CORPORATION
FIDELITY AWARDS 2020
Tsakos Group of Companies with 573 vessels
Minerva Marine with 524 vessels
Danaos Shipping Co. Ltd. with 520 vessels
The album includes a nostalgic trip down memory lane, with an anthology of photographic memories across the history of the AMVER Awards and the Propeller Club in Greece. The album is in the English language. It is free of advertising and promotional material, apart from logos honoring those whose contributions made this special commemorative album possible. Amongst these valuable contributors, the Propeller Club extends special thanks to two of its members, Brand Strategist, Peter Economides, and Naval Historian and Author, George Foustanos.
12892