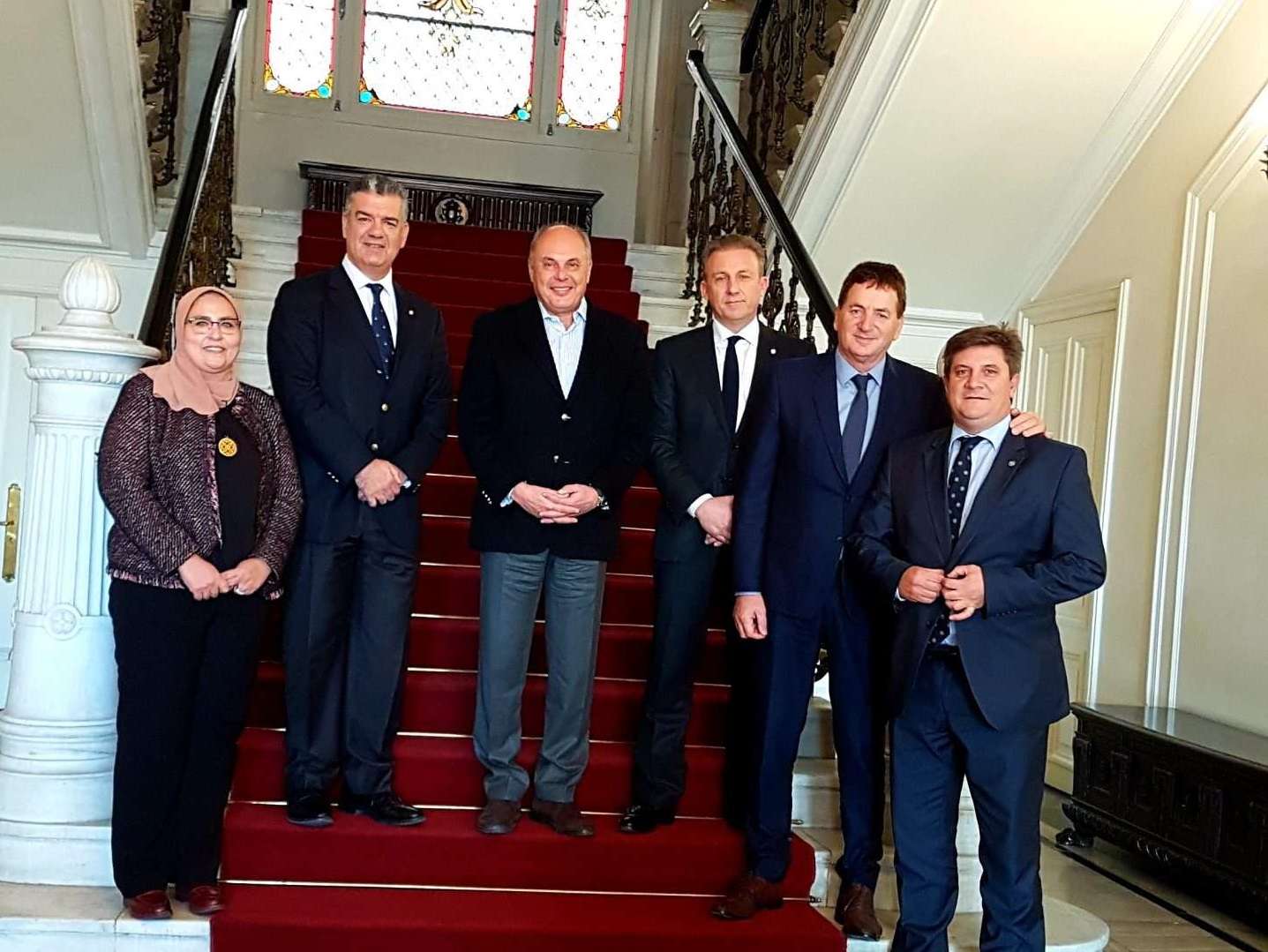 04 Dec

Meeting with the Ambassador of Egypt
Propeller Club of Piraeus meeting with H. E. The Ambassador of the Arab Republic of Egypt, Mr. Mohamed Farib Monib
Propeller Club of Piraeus delegation met with H. E. the Ambassador of the Arab Republic of Egypt in Greece, Mr. Mohamed Farib Monib, in Athens and the Commercial Counselor of the Embassy in Athens, Mrs Manal Abdeltawab.
The delegation of Propeller Club of Piraeus consisted of the following Governors :
1. George Xiradakis, President
2. Dimitris Patrikios, 1st Vice President
3. Costis Frangoulis, Chairman of the Fundraising Committee
4. Dimitris Mattheou, Vice Chairman of the Maritime Committee
The agenda of the visit included a brief introduction and recent developments of the Intercontinental Propeller Club of US – Port of Piraeus, discussions on the development of the Egyptian Shipping market and the economic growth of the country, and the potential of establishing a new Chapter of the Intercontinental Propeller Club in Egypt.
H.E. The Ambassador of The Arab Republuc of Egypt, Mr. Mohamed Farib Monib, outlined the positive recent developments in Egypt and stressed the desire of the President of the Country and his Government to restart the Egyptian Shipping. He remind the Governors of the Propeller Club, that Egypt has a long history in shipping and seafaring and he explain the necessity to reestablish a dynamic industry capable to help the international character in the business of Egypt. In addition, the potential of establishing a shipping line connecting Greece with Egypt was analyzed and found to be a real necessity, not to say prerequisite nowadays, for the Economic growth of the two countries.
President George Xiradakis promised not only to communicate these business opportunities to the members of the Club, but also to organize discussions between entrepreneurs coming from Egypt and the Club Members.
Mr. Xiradakis also communicated to Ambassador Mohamed Farib Monib the desire of the Intercontinental Propeller Club as expressed by its President Joel Whitehead, when he visited Greece for the AMVER Awards Ceremony 2018, to establish the Propeller Club in Egypt.
Propeller Governors expressed their wish to assist the Embassy in the implementation of their plans.
The two parties agreed to meet again soon and also to participate in the forthcoming visit of a shipping businessmen delegation from Port Said this week.
8172