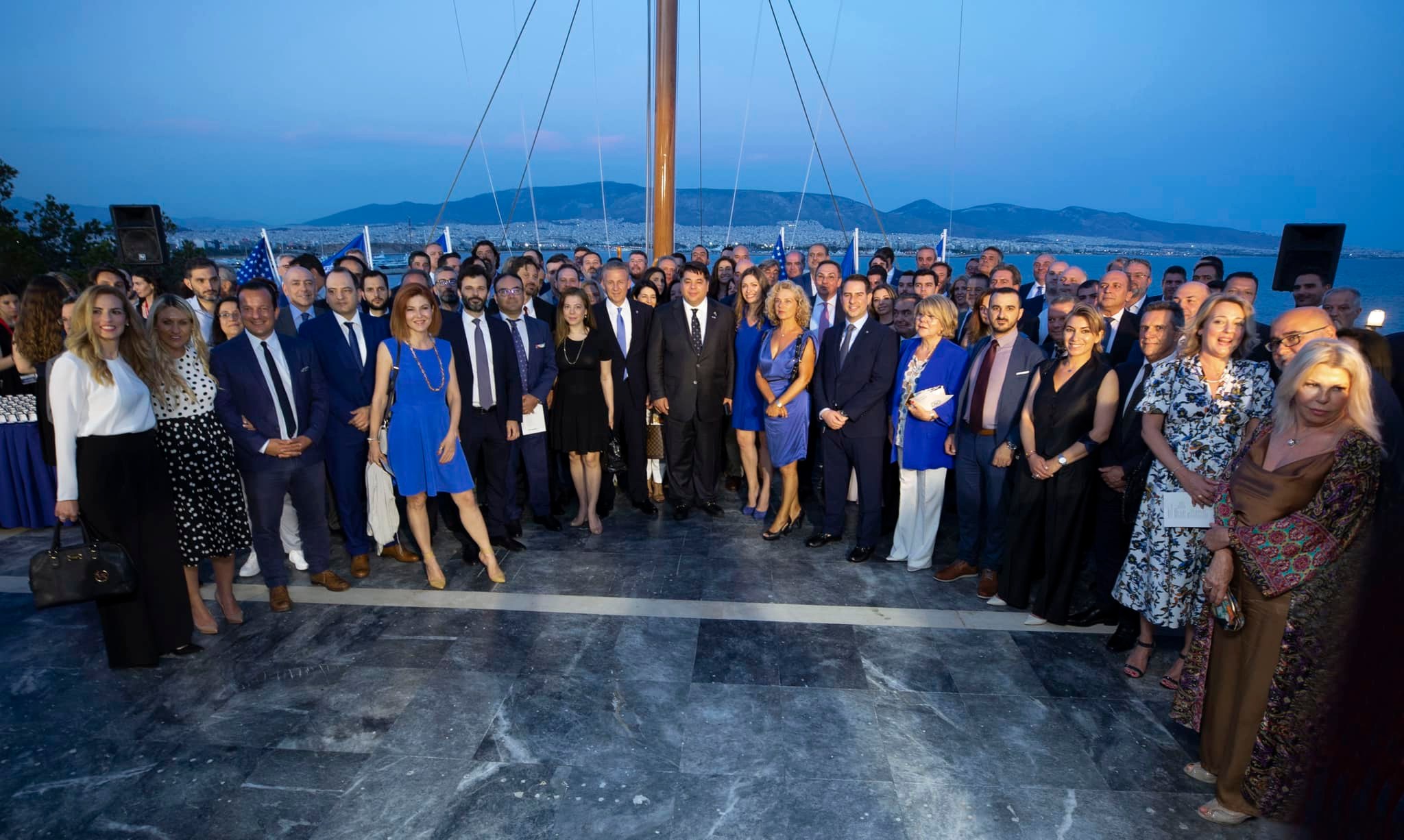 15 Jun

Members' Day Welcome Ceremony
In the presence of the new U.S. Ambassador, George Tsunis, our Club welcomed its new 200 members
On Tuesday, May 31, at the Yacht Club of Greece and in the presence of the new United States Ambassador to Greece and Honorary President of the Club Mr. George Tsunis, our Club welcomed 200 new members.
In his opening speech, after welcoming the new members, our President Costis Frangoulis, referred to the great importance of the continuous renewal of the Club with new, active members who willingly participate in the Club's processes and continue to contribute to the achievement of reaching its goals.
"Today we welcome you, our 200 new members," said Mr Frangoulis. "We have now reached 700 members in total, and we are the largest Propeller Club in the world — the first among 72 other Clubs. The certainty of this great development gives me extraordinary joy, including the progress that we have achieved during the pandemic. The goal is to continue growing. Superior members of the shipping community, and not only, are continuously improving the quality development of our growing family."
The event was attended and addressed by the new US Ambassador to Greece and now Honorary President of our Club, Mr George Tsunis. The Ambassador mentioned, among other things, his Greek roots from Nafpaktia, the excellent Greek-American relations and the close cooperative relationship with the Propeller Club.
Speech on "Ukraine: The 100 days that changed the world and international shipping" was orated by former Minister and MP Mr. George Koumoutsakos, whom our Club also welcomed as a new member.
In his very interesting speech, Mr Koumoutsakos stated, among other things, that "so far two countries may have lost this war – Russia and Ukraine – one winner – the U.S.A – one potential winner – China – and one obviously injured – Europe." Mr Koumoutsakos also referred to the "impending food disaster", the energy crisis, the sanctions against Russia that act as a double-edged sword, and of course the effects of the war on the international and Greek shipping industry and the new conditions of world maritime trade. To conclude, Mr Koumoutsakos did not fail to mention the difficulties faced by the people and the sailors in these very demanding conditions, stressing the superiority of the Greek navy, and shared with guests his query: "Why do we not have a faculty of maritime science at the Academy of Athens? If not now when Greek shipping is excelling globally, then when?".
13236
Gallery