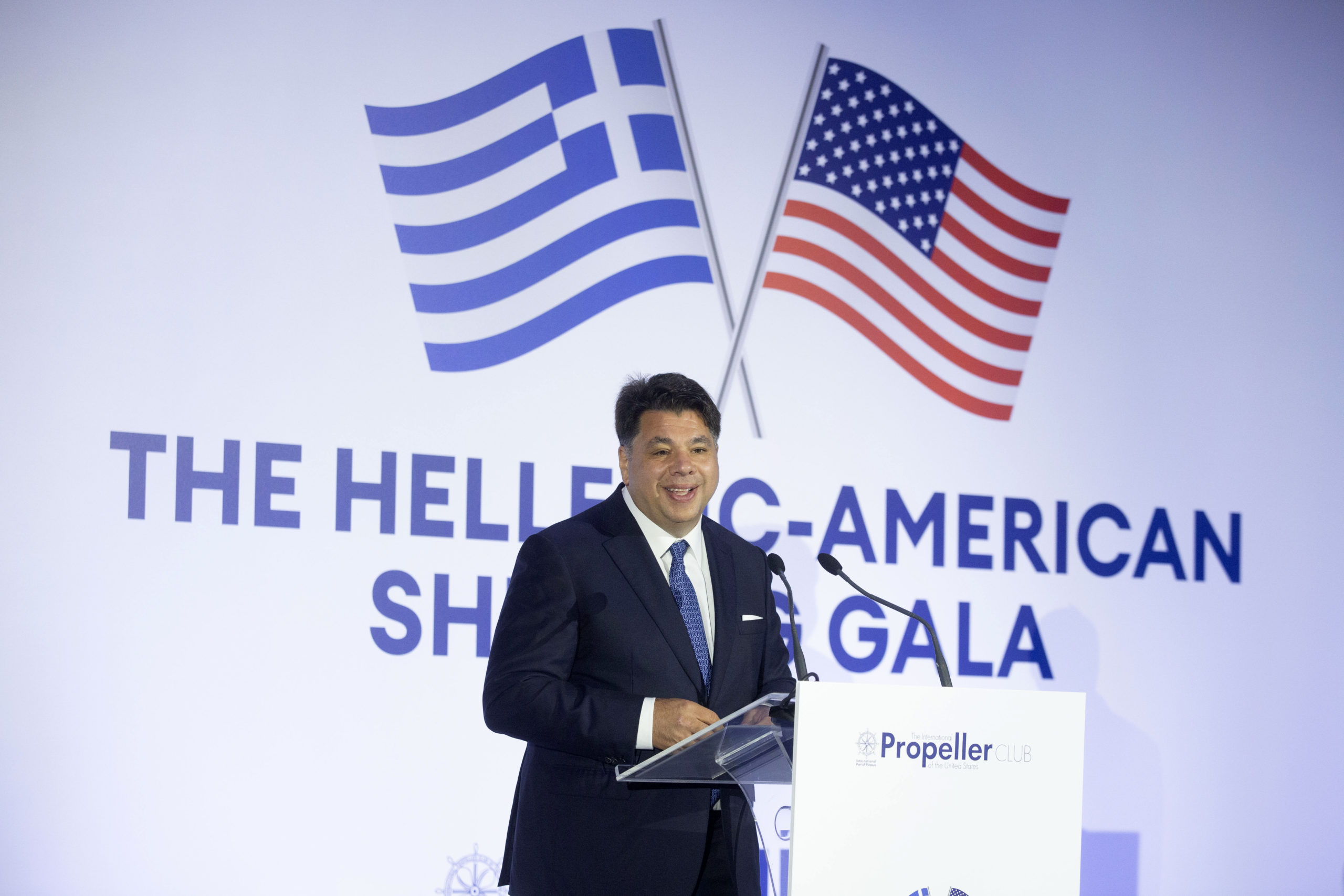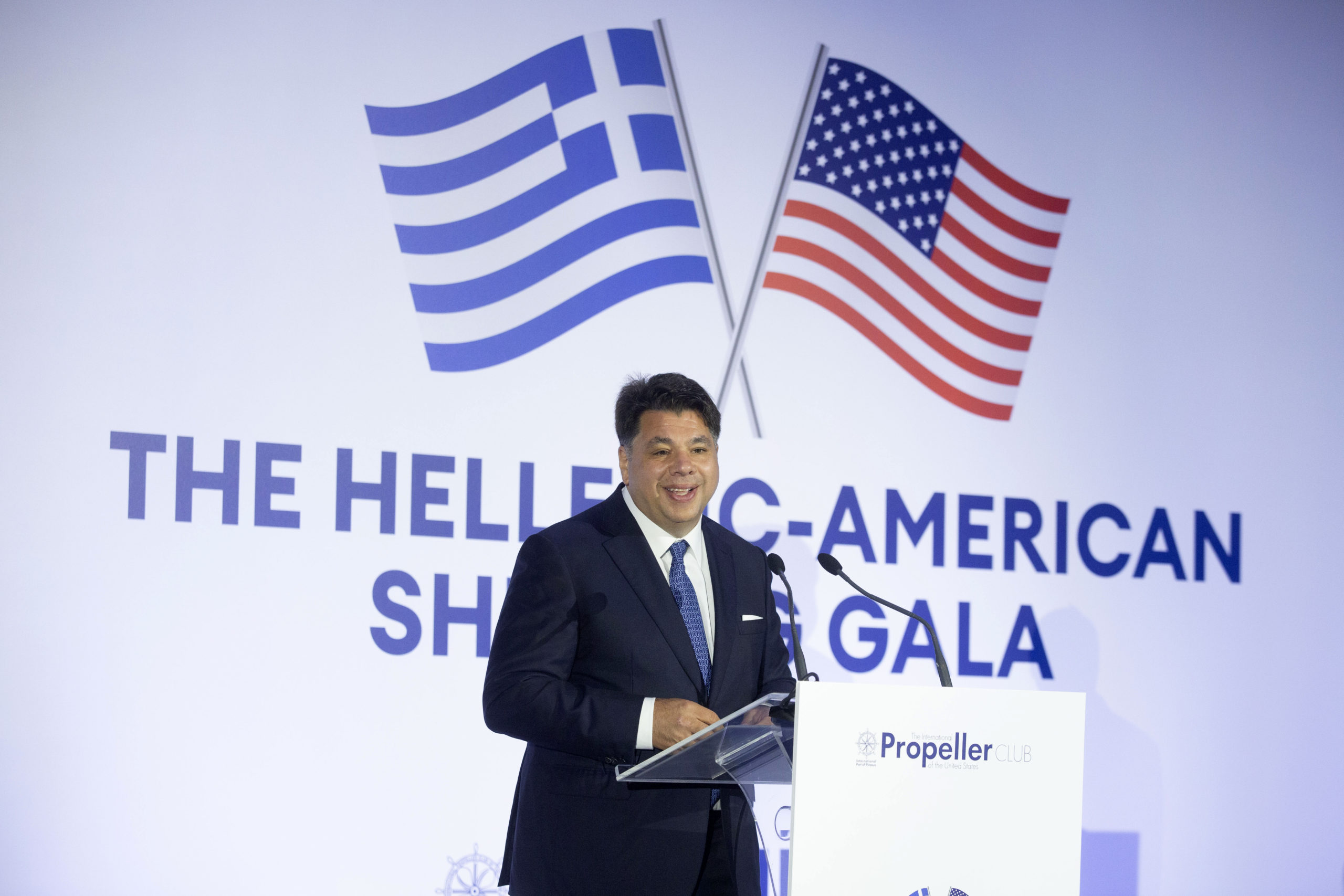 21 Jul

Hellenic-American Shipping Gala
Hellenic-American Shipping Gala
Twenty-seven shipping companies of Greek interests listed in the US capital markets were honored for their exceptional quality, transparency, and attractiveness to global financial and service providers during the inaugural Annual Hellenic-American Shipping Gala.
This prestigious event, held in Athens at the Stavros Niarchos Foundation Cultural Center, and organized by our Club, in collaboration with the U.S. Embassy in Athens, showcased the remarkable cooperation and synergy between Greece and the United States in the shipping sector.
The gala was attended by esteemed dignitaries, including: Adonis Georgiades, Minister of Labor and Social Affairs, Ioannis Pappas, Deputy Minister of Maritime Affairs and Insular Policy, Ioannis Plakiotakis, 1st Deputy Speaker of the Hellenic Parliament, Marina Hadjimanolis, Deputy Minister of Shipping of the Republic of Cyprus, George J. Tsunis, United States Ambassador to the Hellenic Republic, Sulaiman Almazroui, United Arab Emirates Ambassador to the Hellenic Republic, Vice Admiral Ioannis Drymousis, Chief of the Hellenic Navy General Staff, Vice Admiral Panagiotis Lymperis, Commander in Chief of the Hellenic Fleet, Vice Admiral Georgios Alexandrakis, Commandant of the Hellenic Coast Guard, George Pateras, President of the Hellenic Chamber of Shipping, Melina Travlos, President of the Union of Greek Shipowners, Andreas Hadjiyiannis, President of the Cyprus Union of Shipowners, Charalampos Simantonis, President of the Hellenic Shortsea Shipowners Association and Semiramis Paliou, HELMEPA Chairperson, along with senior NASDAQ and NYSE officials and prominent members of the maritime community.
The companies honored at this event were:
NASDAQ-listed: Capital Product Partners L.P., Castor Maritime Inc, C3is Inc., EuroDry Ltd, Euroseas Ltd, Globus Maritime Limited, Imperial Petroleum Inc, OceanPal Inc, Performance Shipping Inc, Pyxis Tankers Inc, Seanergy Maritime Corp, Star Bulk Carriers Corp, Stealth Gas Inc, Top Ships Inc, Toro Corp, United Maritime Corporation.
NYSE-Listed: Costamare Inc, Danaos Corporation, Diana Shipping Inc, Dorian LPG Ltd, Dynagas LNG Partners L.P, Gaslog Partners L.P, Global Ship Lease Inc, Navios Maritime Holdings, Navios Maritime Partners, Safe Bulkers Inc, Tsakos Energy Navigation Ltd.
The event opened with the welcoming remarks of our President, Costis Frangoulis. He said: "For tonight's celebration I would like to thank all the companies and organizations that responded immediately and supported this initiative. Without you and your valuable contribution this effort would not be possible. Tonight, we officially announce the launch of an institution that we hope will open new paths for the future of Greek-American maritime synergy, but which will also act a springboard for even more actions in this direction."
U.S. Ambassador to the Hellenic Republic and Honorary President of the International Propeller Club, Port of Piraeus, George J. Tsunis said: "We honor the important role that the Greek shipping community plays in U.S.-Greece relations by serving as an essential bridge of friendship between our two nations while sustaining global commerce. This remarkable alliance, founded on shared democratic values and a deep appreciation for maritime trade, has flourished over the years, bringing immense benefits and prosperity to both nations. We believe that our two countries – and our world – are safer, more resilient, and more prosperous because of U.S. investments abroad and the ability of companies around the world to invest in the United States. We celebrate the close ties between the Greek shipping community and the United States, and welcome the immense contributions of both parties to global trade and economic growth."
Representing the Greek government, Deputy Minister of Maritime Affairs and Insular Policy, Ioannis Pappas said: "Energy, economy, defence and shipping are the main drivers of Greece's relationship with the USA. Shipping in particular, is a core pillar for growth and prosperity, and its impact on the Greek economy is important and multifaceted. This government's objective is to reinforce even deeper the footprint of Greek shipping for the prosperity of our nation."
Senior Managing Director, NASDAQ Stock Exchange Listings, EMEA, Isabella Schidrich, said: "Shipping is dependent on economic growth and trade relations. The major geopolitical and economic challenges that impact the industry include the drive to digitization and decarbonization, which are common. Of course, Greek shipping is playing a pivotal role in the transformation of the maritime industry globally. Greek shipping continues to lead innovation, technology, leadership and business excellence. Over half of the shipping companies listed in our exchange are of Greek interests and this is a great achievement."
Head of EMEA Capital Markets, New York Stock Exchange (NYSE), Erick Diaz, said: "Today, Greece remains the number one shipping nation in the world. In 2018 the shipping and ports economy generated US$5.4 trillion in total economic activity in the U.S. Given Greece is 20% of the global shipping fleet, we can extrapolate that close to US$1 trillion would have come directly or indirectly from the Greek shipping industry, hence playing a vital role to the US economy. We have close to a dozen shipping companies of Greek interests on our exchange, with a total market capitalization of US$5 billion. The commonality between America and Greece is our commitment to democratic principles of justice, equality, freedom and fairness, values that have united us for the last two centuries."
Founder, Chairman and CEO of Capital Link, Inc, Nicolas Bornozis said: "Capital Link has been involved and supported the journey of shipping, and Greek Shipping in particular, in the U.S. capital markets and we have had the privilege to work with the vast majority of the companies recognized at this event. Shipping has established a strong beachhead in the U.S. capital markets but it still remains a small percentage of the overall U.S. stock market. Additional listings will help the sector increase its profile, offering more opportunities and alternatives to investors. The public markets can play a significant role in providing capital to the industry".
The event brought together shipping industry leaders, government officials, diplomats, and representatives from the international maritime community at a gathering designed to appreciate the close ties of Greek shipping and the U.S capital markets and acknowledge the important role that Greek shipping plays in U.S.- Greece relations as an essential bridge of friendship between the two nations whilst supporting global commerce.
Highly acclaimed journalist and TV news anchor Apostolos Mangiriadis moderated the event introducing all speakers including Christos Timagenis, 1st Vice President of our Club, Danae Bezantakou, General Secretary and Dimitri Vassilacos, Treasurer, who participated in the award-giving ceremony together with George J. Tsunis and Costis Frangoulis.
Christos Timagenis, 1st Vice President of our Club, explained the rationale behind the idea of the first Hellenic American Shipping Gala. He clarified that this event does not in essence constitute some form of contest or competitive award ceremony, but instead this is a token of "recognition" towards publicly listed shipping companies, which are not only active in the shipping industry but are also active on a daily basis in a different "field"… that of international capital markets and are obliged to abide by a framework of corporate governance and investor reporting rules that are being set by US securities laws and the US Securities and Exchange Commission, as well as by the regulations of each respective exchange, NYSE or NASDAQ.

Musician and composer Evanthia Reboutsika along with her four-piece band delivered a memorable performance taking the event's 500 guests on a musical journey at the crossroads where East meets West – a journey filled with sound and color.

The event was sponsored by: Gold Donors Edit Automation, Tsakos Group of Companies, Silver Donors Alberta ShipManagement, Castor Maritime, Costamare Shipping, D.K. Fotinakis, Franman, Navios Maritime, Safe Bulkers, Sekavin, and Bronze Donors AEGEAS Non-Profit Civil Company, Alassia, Bureau Veritas, Charterwell Maritime, Dorian LPG, Euronav, Latsco Marine Management, M.T. Maritime, Marichem Marigases Worldwide Services, Marine Support Goup of Companies, Marshall Islands Registry, National Bak of Greece, Samos Steamship, Seanergy, Technomar Shipping, Tototheo Maritime, V.SHIPS Greece, Watson Farley & Williams.
14549
Gallery